2 Post Car Hoist – 3800kg / 3.8 tonne Lifting Capacity
The AutoLift 2 post car hoist is the perfect addition to your home garage or workshop. The AL-6254a car hoist has a lifting capacity of 3800kg / 3.8 tonnes and a maximum lifting height of 1930mm with the supplied 100mm adaptors fitted. The baseplate model of car hoist is great for low roof height garages and workshops.
Worksafe Design Registered gives you the peace of mind knowing the car hoist complies with Australian Standards 1418.9
Heavy Duty Hydraulic cylinders mounted within the columns drive the carriages for smooth seamless lifting of the hoist arms
Powerful 2.2kw 15amp single phase hydraulic power unit
Two-Stage Asymmetric telescopic arms fitted with arm locks
Safety Locking Ladders fitted to each column (100mm increments) with manual lock release operation
Two-stage screw adjustable pads
Safety Limit Switch cuts out the hydraulic power unit when maximum height is reached.
Low Voltage 24volt controls for added safety
brochure
Delivery info
Tool trays included
The 2 post hoist is supplied with plastic tool trays fitted to each arm, great for storing nuts and bolts when working on your vehicle.
Rubber pads are fitted to hoist columns to protect your doors when exiting the vehicle.
two stage pads
Standard option on the AL-6254a are  two-stage adjustable pads. The adjustable pads have a maximum adjustment of 70mm and for hard-to-reach lifting points, 4 x 100mm height extenson adaptors are included.
1PH 240v 15amp
The AL-6254a has a powerful 2.2kw hydraulic power unit. The control box comes with a pre-wired 15amp 240v plug ready to go. No need for an electrician when installing this 2 post hoist.
engineered base frames
Optional engineered base frames are available and are recommended to be used if your concrete floor does meet the recommended 150mm thickness.
Concrete requirements 
150mm thick concrete steel mesh reinforced (25-30 MPA)
DON'T forget hydraulic oil!
Hydraulic oil is not supplied with the hoist, the AL-6254a requires 10-12L of ISO 32 Grade Hydraulic Oil.
We can supply 5L 32 grade Hydraulic Oil for pick up only, we cannot freight oil.
2 Post Baseplate Hoist Dimensions
2 Post Baseplate Hoist
To install an AL-6254a baseplate hoist into your workshop or garage you will require 3.3m high roof at a minimum. Be sure you have adequate clearance before purchasing.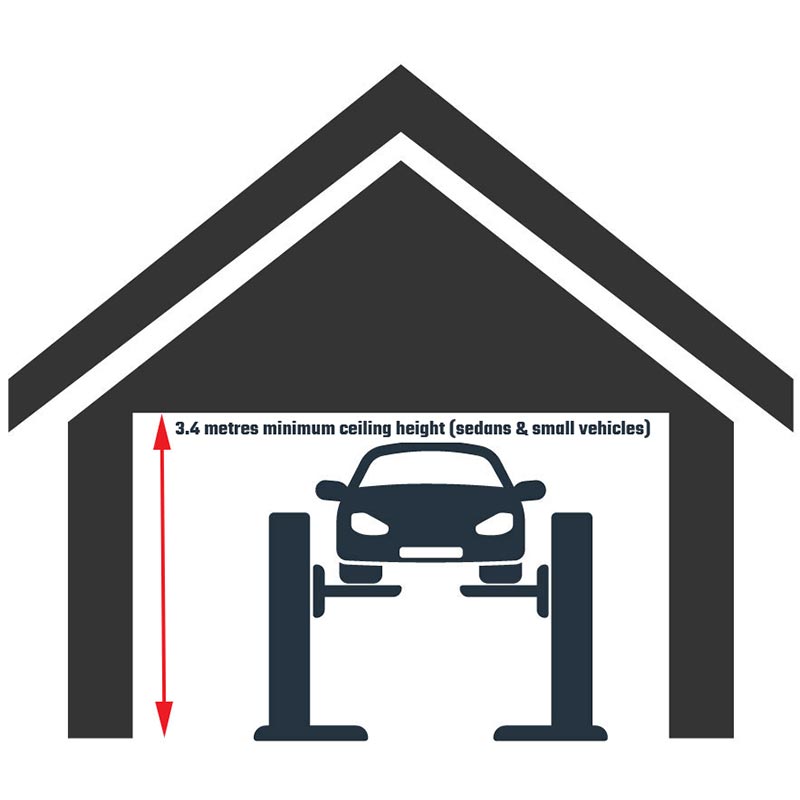 MORE INFO HERE
Delivery Available Australia Wide! See the Delivery Info Tab for pricing
Installation Manual